Water, People, Moments

I began my love for photography shooting in the ocean, my ultimate subject. I found creative ways to combine my love for the ocean and portrait photography by creating surf inspired imagery and classic natural beach portraits.
Through my years as a professional photographer, working with families, couples, and likeminded individuals has always been the most fun, natural, and joyful part of my career.
Taking bookings for weddings, family portrait sessions, in-water surf photo or portrait sessions, commercial, small buisnesses and more!
My Story.
A native of the east coast, Fiona Mullen has a love for the blistery winters of the Northeast, the warmth of the south, and the tropics of Hawaii. She sees life from a fresh perspective – from behind the lens and completely immersed in the ocean. Wintertime on the Northeast coastline is where her photographer eye was born. The blistery nor'easters and snowstorms never draw crowds to the beach, but for Fiona, the waves, light and composition are perfect. She peels on her five millimeter wetsuit, booties and gloves, walks across the snow covered sand dunes and swims out through the near freezing waves with her camera in hand.
For seven years, she has been photographing and publishing these scenes. She has accrued a number of international awards and is recognized across the the surf world for her eye and technical skills. These skills and her hunger to explore have lead her around the world; Indonesia, Australia, New Zealand, Samoa, Hawaii, California, British Columbia, the Caribbean, Iceland and beyond. She graduated in 2019 with a bachelor's degree in Public Relations and Journalism from Monmouth University.
Fiona hopes to continue to make her mark in the world by combining her professional drive and creative flair with her portrait photography sessions and professional Real Estate Salesperson career across the United States.
Message Fiona with any and all Real Estate Questions.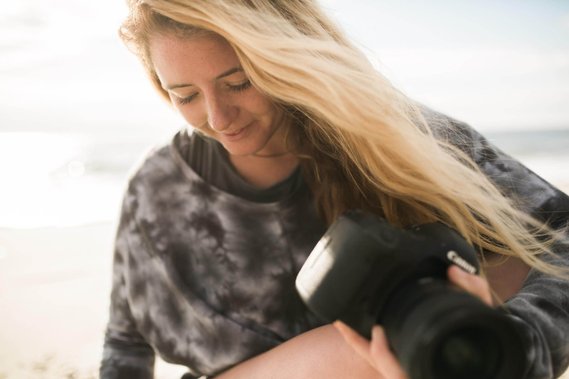 Words from Clients

"As a photographer myself, I am super picky when it comes to choosing a photographer. Once I saw Fiona's work, I knew she was the perfect photographer for us. She did an amazing job working with my family and making sure everyone was happy & comfortable. Every photo captures our true smiles, organic emotions, and Hawaii's beautiful scenery. I couldn't be happier with the photos, I highly recommend Fiona Mullen Photography!"
"I recently hired Fiona to captured my swimwear line in action. A lifestyle photoshoot so to speak. I discovered how talented she was via IG. Very professional and easy going woman who is extremely talented behind the lens. I will be hiring her again soon!" -Kelley C.
New York Women's Surf Film Festival
In August 2018, Fiona was the featured artist for the film festival in Montauk, New York. Her exhibit, "Hemispheres" was a tribute to women surfers around the world. Days after arriving back from a winter spent in Australia, Fiona had fresh new work to exhibit from both hemispheres. Framed work shown is available for purchase (email info@fionamullenphoto.com to inquire).
And when Fiona is not taking photos or selling houses, you'll find her here doing all that she loves...